Book Fair Reminder

The book fair is this week. Monday and Tuesday are preview days. Students will have the opportunity to purchase on Wednesday and Thursday.

Nothing Bundt Cakes
Just in time for Easter and Mother's Day. Support our school by purchasing these tasty cakes. BridgePrep receives 20% of orders that are placed. We can accept checks or money orders payable to BridgePrep Academy of Duval. You can also pay with your credit/debit card in the front office.

Family Night - Woody's BBQ
Join us for family night this month on March 21st at 5 p.m.

March Calendar


School Play - This Saturday 3/9

Come join us for our first school play this Saturday at 3 p.m.

Schedule A Tour

Sign up for a school tour today and see all that BridgePrep Academy of Duval has to offer!
#BridgePrepAcademyofDuval #BPAofDuval #BridgePrepBulldogs

Dr Seuss Day

Join the fun on Friday, March 1st and wear your best Dr. Seuss gear.

Fitness & STEM Night reminder

Please join us tonight for our first annual Fitness & STEM Night at 5:30 p.m. - 7:00 p.m.

Parent Shadowing Policy
We appreciate the support we receive from our parents and our doors are always open. Please review the school's shadowing policy for any additional information you may need.

Final game before playoffs

Come show your support for our basketball team. If we win tomorrow our team will go to the playoffs. This is an amazing opportunity for a first year team! We hope to see you there.

Show All »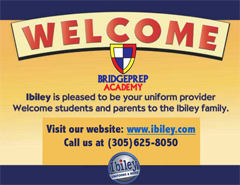 Buy your BridgePrep uniforms today!
Featured Albums
Pep Rally

Golden Heart Award