Back to top
News and Announcements
BridgePrep Academy Market Day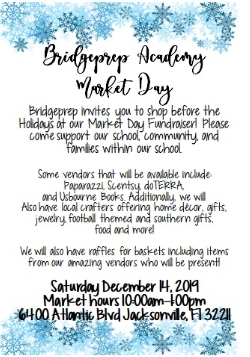 Join us for our first annual Market Day. All of our booths are local vendors. We are so excited and cannot wait to see you at our event.

Marble Slab
Please join us for our monthly fundraiser with our amazing business partner on December 11th.

Apply Today for 2020-2021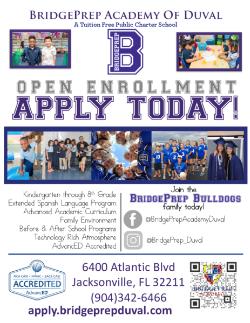 The new student application for the 2020-2021 school year is NOW LIVE!
Become a part of the BridgePrep Bulldog family.
Apply Today!
https://apply.bridgeprepduval.com
Instagram: @bridgeprep_duval
Twitter: @BPA_Duval

#BridgePrepAcademy #BridgePrepBulldogs #JoinTheBridgePrepFamily

Holiday Storytime
Join us for our first annual holiday story time. Stories will be read each Sunday in December at 6 p.m. by the principal. All books will have a holiday theme and we hope you join us. The kids will love this and it will count towards their nightly reading minutes.

Kyan's Kause- Give Miami Day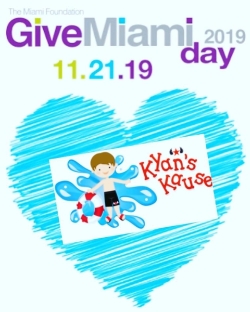 #GiveMiamiDay We are asking all our BridgePrep School Families to help Kyan's Kause continue to fund Swimming and CPR scholarships for Kindergarten and First grade BridgePrep students. You can support Kyan's Kause by donating at https://www.givemiamiday.org/BPADuval

#BridgePrepAcademy #BridgePrepStudentsLearnToSwim #BPASwimmingLessons

Attendance Celebration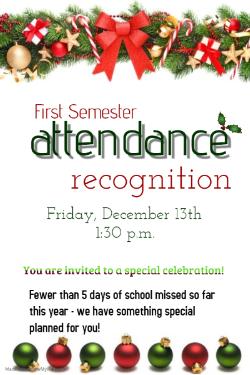 Regular school attendance has a huge impact on the academic success of a child. For all our students who miss fewer than 5 days between the first day of school and Thursday, December 12th, they will be invited to a special recognition.

Basketball Shoot Out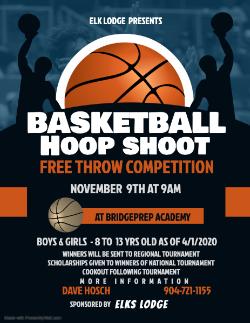 This is open to the community. We hope to see you there!

Food Drive Reminder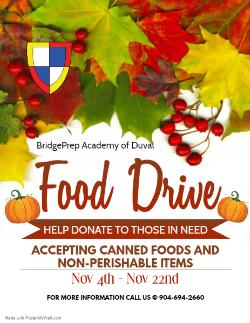 We are collecting items for our annual Thanksgiving baskets for some of our BridgePrep families. Any donations are greatly appreciated.

Picture Day Reminder
Just a reminder that Picture Day is next week. Students must be in uniform but they do not have to wear the uniform for Spring photos.

Fundraiser items arrive tomorrow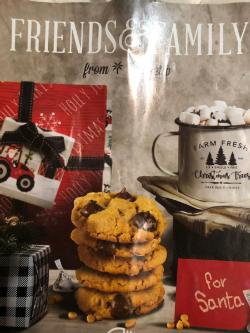 Fundraiser items will begin arriving tomorrow. Please pick up your child's order at noon on November 5th. We cannot hold orders long due to the need to refrigerate some items. Orders will not be given to children.