Final game before playoffs

Come show your support for our basketball team. If we win tomorrow our team will go to the playoffs. This is an amazing opportunity for a first year team! We hope to see you there.

First Annual Fitness & STEM Expo

Join us for our first Fitness & Stem Expo. We will have a variety of fun fitness activities for the whole family. We will integrate science, technology, engineering and math. Don't miss some of the surprises we have planned. We hope to see you there.

February Calendar


Friendly Reminders - Please Read
Ole Family Night tonight, 9921 Atlantic Blvd: 5 p.m. - 9 p.m.
Ibiley visits the school tomorrow, January 22nd: 9 a.m. - 5 p.m.

Upcoming Enrichments - Reminder

Registration for our spring enrichments began on January 11th in the front office. All registrations close on the posted date. I am so excited about the projects the teachers are planning for some of the enrichment activities.

Intent to Return - Urgent
Please complete the intent to return next year. We need a prompt response so we can effectively plan for our upcoming 2019-2020 school year.

Cheerleader Tryouts
Come tryout for our new cheerleading team. Tryouts are open to 4th-7th grade boys and girls.

Baseball & Softball Registration

We need 12 students per age category to form a BPA team. Your child will still be able to play on a league team if a team cannot be formed for an age category. A multi-child discount will also apply.

FSA Family Night

Join us for our FSA Family Night. Get suggestions on how to help your child at home so FSA testing is as successful as possible.

Meal account information - Second posting
All lunch accounts need to be paid so the balance is $0.

Show All »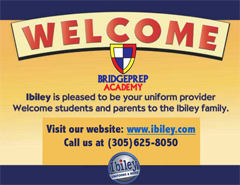 Buy your BridgePrep uniforms today!
Featured Albums
Golden Heart Award

AMC 8 Math - Winners