Back to top
News and Announcements
School Play - This Saturday 3/9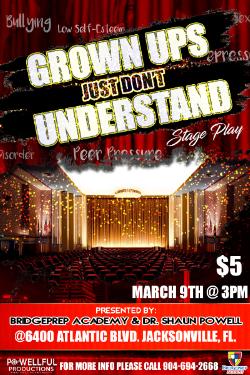 Come join us for our first school play this Saturday at 3 p.m.

Schedule A Tour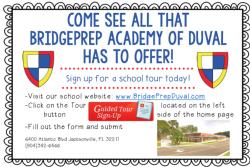 Sign up for a school tour today and see all that BridgePrep Academy of Duval has to offer!
#BridgePrepAcademyofDuval #BPAofDuval #BridgePrepBulldogs

Dr Seuss Day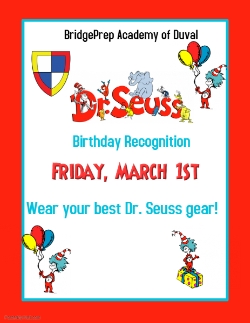 Join the fun on Friday, March 1st and wear your best Dr. Seuss gear.

Fitness & STEM Night reminder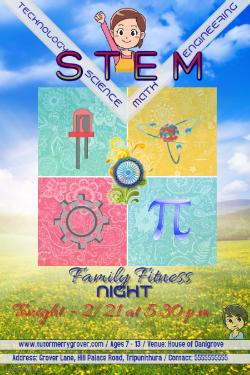 Please join us tonight for our first annual Fitness & STEM Night at 5:30 p.m. - 7:00 p.m.

Parent Shadowing Policy
We appreciate the support we receive from our parents and our doors are always open. Please review the school's shadowing policy for any additional information you may need.

Final game before playoffs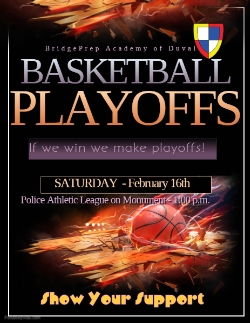 Come show your support for our basketball team. If we win tomorrow our team will go to the playoffs. This is an amazing opportunity for a first year team! We hope to see you there.

First Annual Fitness & STEM Expo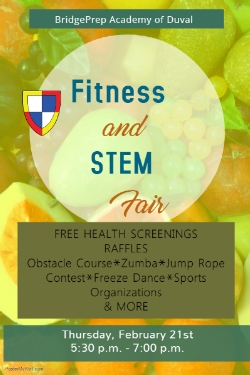 Join us for our first Fitness & Stem Expo. We will have a variety of fun fitness activities for the whole family. We will integrate science, technology, engineering and math. Don't miss some of the surprises we have planned. We hope to see you there.

February Calendar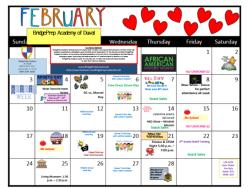 Friendly Reminders - Please Read
Ole Family Night tonight, 9921 Atlantic Blvd: 5 p.m. - 9 p.m.
Ibiley visits the school tomorrow, January 22nd: 9 a.m. - 5 p.m.

Upcoming Enrichments - Reminder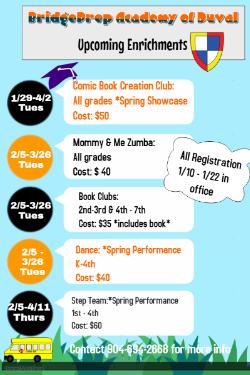 Registration for our spring enrichments began on January 11th in the front office. All registrations close on the posted date. I am so excited about the projects the teachers are planning for some of the enrichment activities.